24 February 2019
The Terrace Theater at the Kennedy Center, Washington DC
Presented by:
The Kennedy Center & The Smithsonian
Curated by:
Robert Van Leer, Diana Ezerins & Mary Linn
Last Whispers is a project about a mass extinction of spoken languages. The immersive sound and video installation premiered at
The Terrace Theater of The Kennedy Center to a full house and showed both the audiovisual presentation of 46 min and the 7 minute VR, the largest synched VR screening in the world to date.
The audience of 500 people experienced Last Whispers.
Stills from the Last Whispers show at the Kennedy Center (Copyright by Jason Andrew)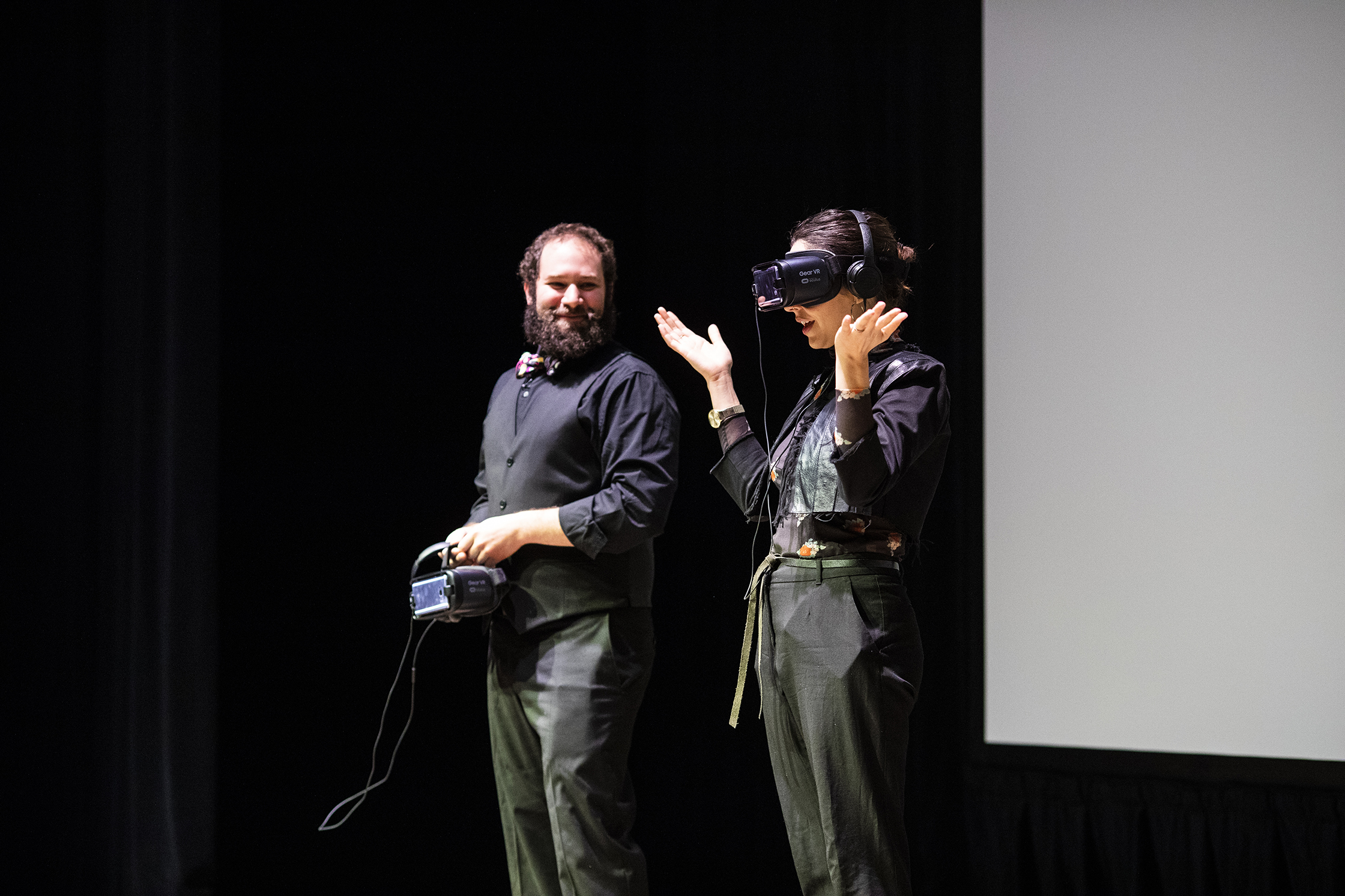 Panel discussion following the show with Mary Linn, Natalia Cordova of the Smithsonian and Mark Mangini, Marco Capalbo and Lena Herzog:
IMMERSIVE ORATORIO
sound / video installation or a concert dedicated to the extinction of languages (running time: 46 minutes)
Last Whispers is simultaneously a film projection and a choral pre-recorded composition with binaural* sound, resulting in a 46-minute long visceral experience—an immersive oratorio.
The video consists of 3D animation, video drone footage and stills (all in black-and-white) poetically linking image and sound.
The Oratorio is a chorus of extinct and endangered languages, both spoken and sung, composed from the historical recordings (speech, recitatives, incantations, songs and ritual chants) punctuated by the sound of interpreted gravitational waves of the collapsing stars and supernovae recorded by LIGO "The Listening Ear."
Last Whispers is, in essence, a film with binaural* sound and it has two interpretations / editions:
IMMERSIVE ORATORIO (46 min installation)
Museum / Concert Hall / Cathedral Installation and Concert
· Last Whispers plays on a loop as an installation at the top of the hour or
· Last Whispers plays as a choral concert and film event at a given time
· Video screen projection of animation, stills and drone footage in black-and-white
· Audio projection (8.1 or binaural*) either via an 8.1 PA sound system or via earphones (as a binaural)
* Last Whispers was created and mixed in two ways: as an 8.1 public spatialized sound projection and as a binaural individualized sound projection. Both mixes mimic a sound environment the way human ears hear it live, unrecorded. They are perceived as a genuine 360° sound, registered by the mind as distinctly present and alive.
VR (7 minutes)
An Immersive Oratorio for Vanishing Voices, Collapsing Universes and a Falling Tree
(in Three Parts)
Part III / 7 minutes (completed)
Concept / Directed / Produced by Lena Herzog
With Composition and Sound Design by Mark Mangini
VR Production by Last Whispers Non-Profit and Emblematic Group
Part I and II (work in progress)
Concept / Directed / Produced by Lena Herzog
With Composition and Sound Design by Marco Capalbo and Mark Mangini
VR Production by Last Whispers Non-Profit and Emblematic Group